No.4 stainless steel sheet is available in different grades, like grade 201, 304, 430, 316L, they all got nice and pleasant no.4 finish with neutural pvc, top quality, perfect for appliance.

No.4 Finish is produced with short, parallel polishing lines over the surface, it is the most familiar and most frequently used, the easiest of the finishes to maintain, the most popular finishes and relatively low cost available in your market, it may be considered for a wide variety of applications, such as kitchen appliances, cabinet face panels, wall claddings.
No.4 Stainless Steel Sheet

Grade

304/ 201/ 430/ 316L

Thickness

0.3-3.0MM

Size

1000*2000MM/ 1219*2438MM/ 1500*3000MM

Surface finish

NO.4

MOQ

1 Ton / 50 sheets

Standard

JIT/ AISI/ ASTM/ DIN/ TUV/ GB

Origin

Pocso/ Tisco/ Lisco/ Jisco/ Bao steel/ H Wang

Patterns

N/M

Surface Color

Original/Colored

Surface Protective Film

70 Micro Laser PE/Fish head PE/ Black & White PE/PVC

Sticker

Neutral Sticker

Lead time

Depends on the size of the order. Normally within 5 days.

Packing

Standard export packing, each weight around 2 Metric tons,

selective in different packing types

Payment Terms

T/T or L/C, TT is preferred

Application

For kitchen cabinet, benches, trolleys, hood, tables, food machines,

chemical containers, sinks, bill boards, doors and gates, mailboxes,

artworks, elevators, wall panel, cladding

Preshipment inspection

Optional

MTC

Available according to the request.

Preshipment inspection

Optional ( SGS / BV / ... )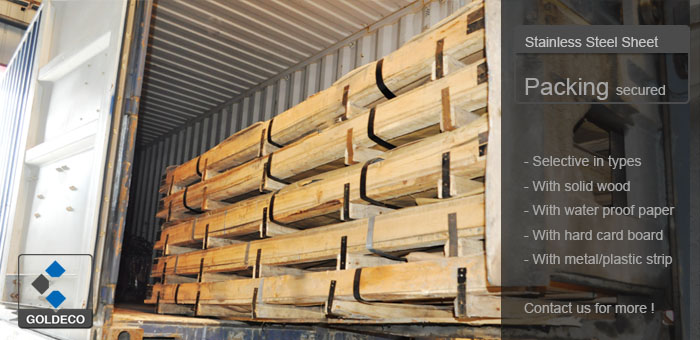 Chemical Compositions

Grade

GB 201

SUS304

SUS316

SUS430

Elong ( 10% )

50-60

Above 40

30Min

Above 22

Hardness

HRB100, HV230

≤200HV

≤200HV

Below 200

Cr ( % )

16-18%

18-20%

16-18%

16-18%

Ni ( % )

0.5-1.5%

8-11%

10-14%

≤0.6%

C ( % )

≤0.15%

≤0.08

≤0.07%

≤0.12%

If you have interests for this item or similar items, please feel free to write to us for a complete quotation, or if you have special requests like laser cutting, grooving, bending or welding, please feel free to let us know, we shall be very glad to offer you one stop solution service.
Your satisfaction is our top priority!