Decorative Stainelss Steel U Channel

Grade

304

Thickness

0.55/0.65MM

Size

18x18x18MM/25x18x25MM/38x25x38MM/5x5x5MM/

10x10x10MM/ Customized sizes are availble

Surface finish

Mirror

MOQ

50 Pcs

Standard

JIS/ AISI/ ASTM/ DIN/ TUV/ GB

Origin

Pocso/ Tisco/ Lisco/ Jisco/ Bao steel/ H Wang

Patterns

None

Surface Color

Silver

Surface Protective Film

70 Micro Laser PE/Fish head PE/ Black & White PE/PVC

Sticker

Neutral Sticker

Lead time

Depends on the size of the order. Normally within 5-7 days.

Packing

Standard export packing

Payment Terms

T/T

Application

For wall, ceiling, or floor decorative purpose where requires beauty and strength.

Preshipment inspection

Optional ( SGS / BV / ... )

MTC

Available according to the request.

Kindly reminds


Remove the protective film after the installation

Keep the surface with clean water and soft things

Use mild glue to fix it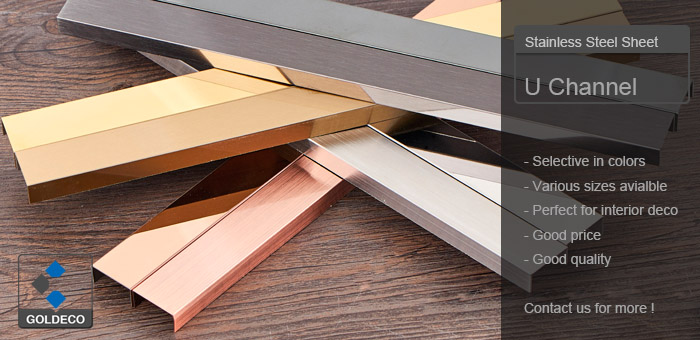 Top reasons why you choose Goldeco Stainless Steel

as your Stainless Steel U Channel supplier.
* Guaranteed quality, including surface polishing quality and raw material quality.
* Fabricated by CNC machines which ensure accuracy.
* Fast delivery, including delivery to Foshan or Guangzhou.
* Seaworthy plywood export packing ensures safety all the way.
* Good price with good services, your satisfaction is our top priority.
Stainless steel channel packing:
Stainless Steel Channel application:

FAQs for Decorative Stainelss Steel U Channel
Q 1: Why people like this stainless steel tile trim / u channel a lot?
A: This product is perfect for ceramic tiles where people require something to elevator the decorative effect while keep the cost low, high quality with low price, especially good for decoation and engineering compaies.
Q2: Does this product need special skills to install?
A: No special skills needed, just make sure you keep it in the right place between ceramic tiles.
Q3: Before i order, what do you want to know?
A: Well, for an accurate quote, we need to know the stainless steel garde you want to use, sheet thickness, surface finish, inner size of out size, and don't forget to tell us the length.
Q4: Do you accept cut to length service?
A: Of course, customer's satisfaction is our top priority.
Q5: If i have a small order, do you accept small order?
A: Not a problem, your concern is our concern, small quantities are accepted.
Q6: How can you guarantee your product quality?
A: We have to make sure to delivery satisfactory products, nobody wants to do just want to do one time business, we are looking for the long run relationship, and our professional team will make sure that the goods are delivered in good conditon.
Q7: Will you pack the products?
A: Professional people do professional packing, we have different types of packing optional to customers, economic one or better one.
Q8: We got a special product need to make, can you do it as per our drawing?
A: Sure, we would love to solve the problems of our clients, business is easy, just mail us your drawings, we will get back to you soon.
Q9: What kind of payment term you accpet?
A: We accept T/T.
Q10: If this is a small order, will you delivery the goods near you? for example in Guangzhou.
A: Yes, we are born to solve problems of our customers, we will get the goods safely to your agent's warehouse in Guangzhou safely, and get you the pictures.
Q11: If i send SGS for inspection before shipment, will you agree?
A: Yes, of course, we do think it is the best way to ease your worries, and make following business easier.
Q12: I have a few more questions.
A: Just let us know, you will have our timely response. More FAQs.
Any other types of stainless steel fabrication projects, just send us your drawings, we are ready to offer our products and services.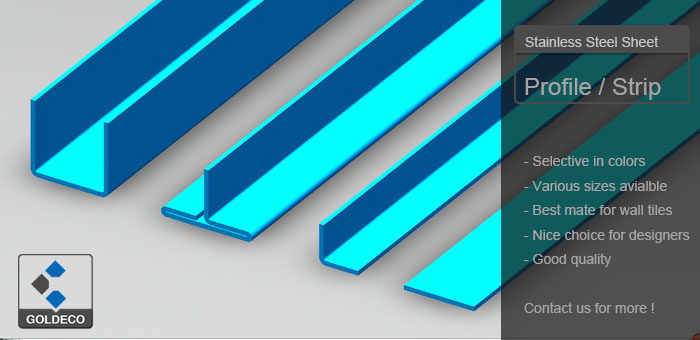 Stainless stee u channel, c channel related products:
decorative stainless steel u channel, china stainless steel trims, china stainless steel u channel, decorative stainless steel angle, corner guard made in china, china stainless steel profiles, china stainless steel baseboard, china stainless steel baseboard supplier, stainless steel decorative board, stainless steel tile trim manufacturers, trims manufacturers in china, stainless steel u channel manufacturers, decorative stainless steel channel, rose gold tile trim, china stainless steel frame mirror supplier, backsplash decor trims, stainless steel ceramic tile trim, stainless steel u-channel trim, tile beading manufacturers, stainless steel u channel flexible trim, stainless steel u-channel manufacturer, furniture decorative trim, furniture corner protector supplier, u channel trim, steel u channel suppliers, stainless steel u-channel molding trim, stainless steel tile trim profiles, stainless steel angle china, stainless steel t profile, mirror finish stainless steel tiles, stainless steel u-channel manufacturers, ceramic inside corner trim, stainless steel channel trim, furniture corner protector manufacturers, 316 stainless steel tile trim, wall tile decorative trim, stainless steel u channel trim, t shaped stainless steel strips, alloy tile trim, polished stainless steel tile trim, cheap corner guards supplier, stainless steel tile trim price, stainless steel tile angle, ss u channel, stainless steel wall tile trim, brushed stainless steel tile, steel tile trims, furniture edge protectors supplier, inox tile stainless steel tile, gold tile trim, flexible tile trim, ceramic tile corner, u channel stainless steel, 12mm stainless steel tile trim, channel stainless steel u, 10mm brushed steel tile trim, tile trim brushed stainless steel, stainless steel u-channel, ceramic inside corner tile trim, tile trim manufacturers, stainless steel u channel small, stainless steel u channel, stainless steel u channel suppliers, ceramic tile edge profiles, ceramic tile corner trim profiles, stainless steel tile strip, stainless tile trims, metal u channel trim, ceramic tile corner edging, ceramic tile trim profiles, steel tile trim, stainless steel u channels, t profile tile trim, stainless steel tile trim 6mm, black metal tile trim, door decorative trim, steel trim channel, tile trim profiles, stainless steel u channel for doors